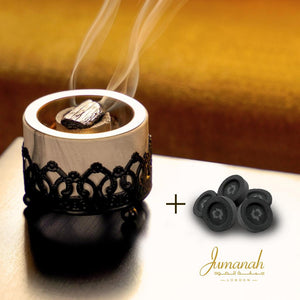 Mibkhara & Coal
Made in Saudia Arabia
Bundle pack that contains 24 instant lit coal pieces.
Instant lit coal. Ready to use in 15 seconds. Light over with a lighter all over the coal. Wait until the coal turns grey. Ready to place your bakhoor on top.

An elegant bakhoor burner that holds firm to its Arabian roots in its design yet boasts a modern design. This will uplift any room with its aroma. Simply place your coal in the tray. Place the bakhoor on top of the coal. Allow the scent to radiate.
Once used, dispose the coal powder by removing the filter above.